Beat the rush to get your home holiday ready with our pre holiday sale. As a VIP customer, get early access to our 20% STOREWIDE savings during the whole month of September. Follow Nassau Tile on Facebook and Instagram to browse the latest designs and stay tuned for a special online gallery. Our Tile Experts are standing by with convenient curbside service and delivery.

NEW arrival Swing Blue 8 x 8″ porcelain tile brings this kitchen to life. Geometric cement patterns combine with gray and blue tones to perfectly complement the gray furniture tones. The cement tile pattern is a playful design element that can be used as an accent in either floor or wall spaces.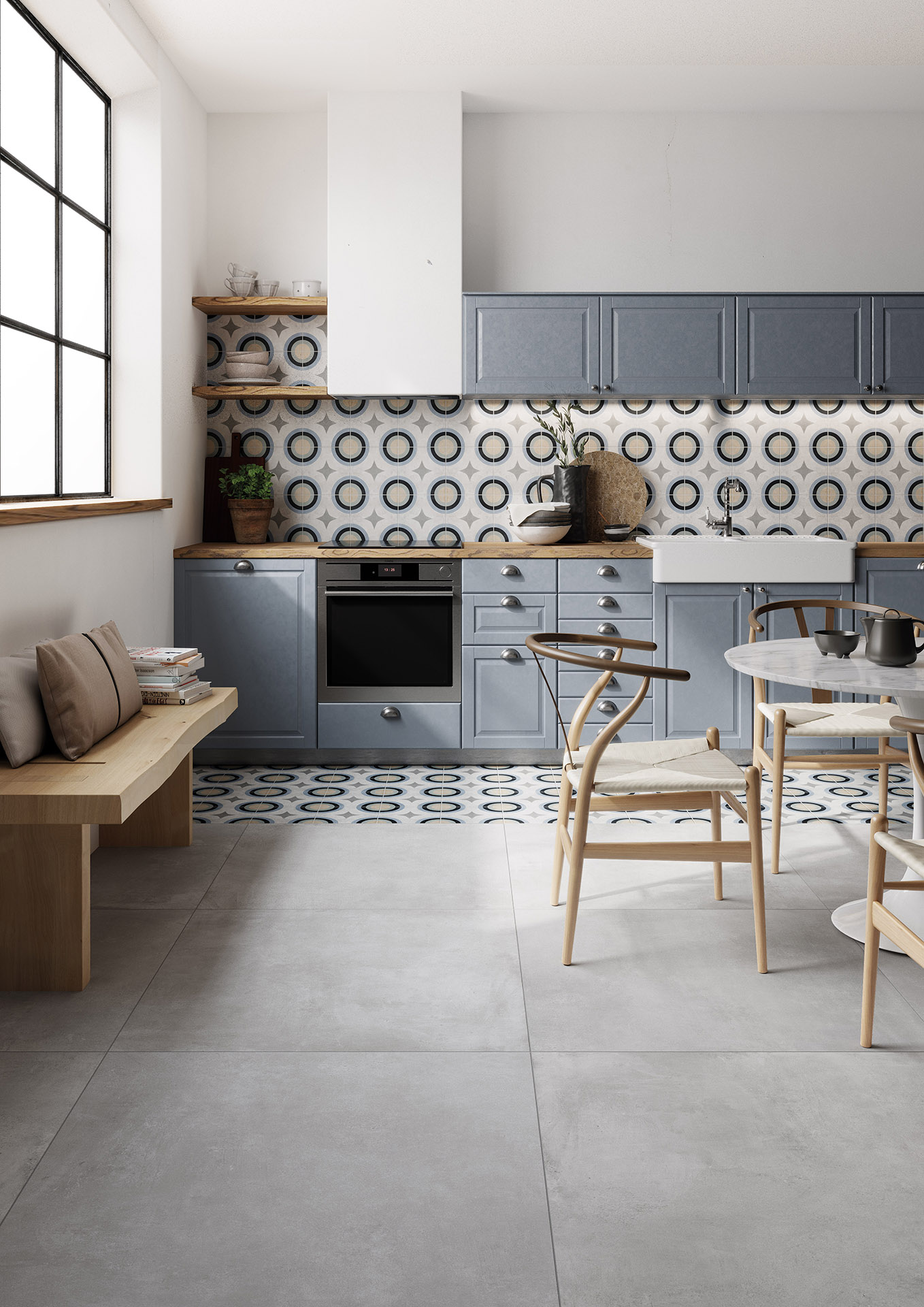 Our tile spotlight highlights Buzios ceramic wall tile. Ceramics are back in stock just in time for our sale. Buzios is a 3D textured wall tile with natural tones to enhance any wall application. Textured wall tiles are an easy design upgrade for kitchens and bathrooms.

Did you know that there are different types of mortar for installing tiles? For example, long porcelain plank tiles like the Greenwood Bianco shown here should be installed with a mortar specifically for large format tiles. Make sure to ask our Tile Experts which mortar is right for your project and take advantage of 20% savings this month on ALL setting materials. Did you know that porcelain tiles are the most durable and longest lasting flooring option? We have been around for a while-90 years to be exact. Porcelain tile has proven to be one of the longest lasting flooring options on the market. And with so many styles, finishes, colors and sizes to choose from, porcelain tile is sure to make a long lasting statement in your next project.

Cosmos Calcare 12 x 24″ takes the spot as our featured outdoor space this month. Cosmos is the perfect blend of neutral tones and non slip texture for outdoor island living. Porcelain tiles are the ideal choice for outdoor areas because of their durability, stain resistance and non slip texture. Check out our full range of outdoor porcelain tiles—all with 20% off during September!

Our featured indoor space combines porcelain wood plank tiles with a tulip cement pattern backsplash. The Eiche Landhaus rectified 48″ porcelain plank tile sets the tone for this modern kitchen. The backsplash and floor tile work together to create a stunning kitchen space. Both of these beautiful tile designs are in stock now and 20% off for the month of September.