Tile Style January 2019 Issue

Happy New Year! Your environment helps create the space where you can achieve all of your personal goals for 2019, so why not take this opportunity to create the design space you've been dreaming of?
Make an appointment with one of our tile experts today and receive a customized quote free of charge – let's elevate in 2019!
We're seeing a trend that we expect to continue for a while – White, White, and more White! These are not your everyday old fashioned shades of basic white. Think of soft texture, subtle grays combined with spa like aqua tones in different shapes like hexagons and chevrons. We're featuring Reveal El Dorado in size 12 x 24". Not only is it ahead of the trend and in a versatile rectangular shape, but it adds just the right combination of texture with subtle gray veining.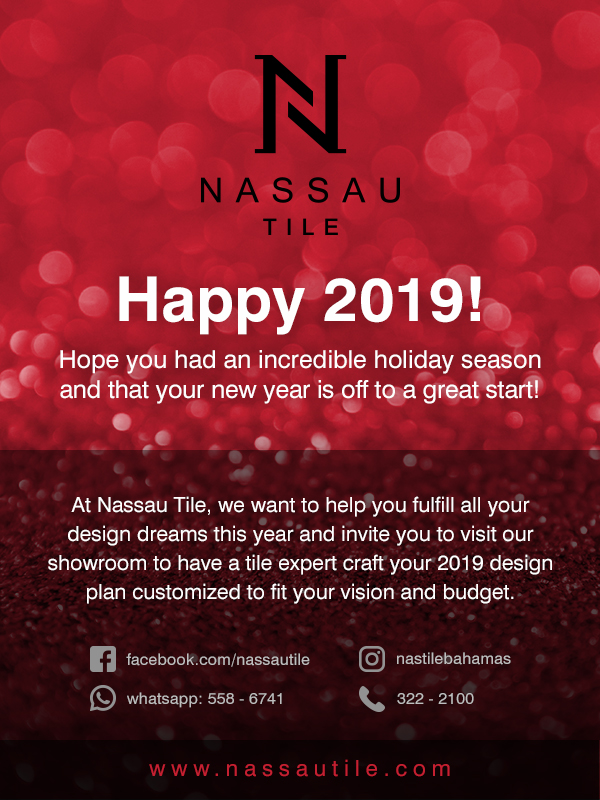 This year will bring a blend of new designs and updates to classic styles. The Reveal collection features classic Carrara and El Doado marble looks, with a modern veining pattern. The new Carrara now in stock incorporates soft veining and natural elements. What's to come? We'll see white stone looks move towards softer and creamier tones.

Wood looks continue to be a strong design trend in 2019. With new even longer planks to come and more cream, beige and brown introductions, 36" lengths will remain a staple for Bahamian island living. We expect gray tones to remain popular with their driftwood look perfectly suited for chic island living like the LDL Sorriso shown below.

Did you know that a great bathroom design incorporates only a few different elements? It is a great idea to bring your pinterest, Houzz boards, magazine clippings, paint chips and anything else that inspires you in to our showroom. It helps our tile experts see what you like and better understand your vision to create the perfect selection tailored just for you. For your bathroom space consider the style of vanity you would like, keeping in mind our floating vanities now in stock will be a popular trend in 2019.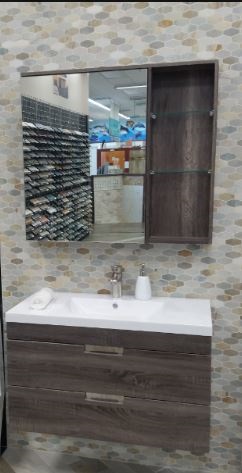 Outdoor spaces will continue to showcase neutral color schemes especially with beautiful landscapes and ocean backdrops in our beautiful island chain. Outdoor floor spaces don't need a whole lot of color with their main purpose being to accentuate the gorgeous hues in the nature surrounding them. Rectangular formats are both classic and modern because they allow you to create many different patterns and designs. The Block Bianco shown below is the perfect sandy compliment to Bahamian aquamarine waterscapes.

Another upcoming trend for 2019 is textured walls. We've been seeing this for a while but now the textures are evolving to offer home owners choices for every room of the house in different tones as well as finishes. The new Verve series features linear texture with a sheen inspired by handcrafted design. It can be perfectly combined with wood looks or cement looks to either compliment or contrast your floor choice.