Tile Style August 2019 Issue

Splash around and bask in the sunshine safely this summer with non slip tiles!
Outdoor tiles come in a variety of styles from wood looks to sandy hues and modern gray tones. Download our FREE Outdoor Living Guide to see our tips to design your dream outdoor space. And, we're offering 15% off ALL outdoor tiles and ALL mosaics during the month of August to help you create your dream space on a budget.

Elongated planks continue as the latest trend in porcelain wood look tiles. Our NEWEST stock arrival is the Woodland Blanco which brings a touch of warmth to modern living. It is pictured below in a matt finish 8 x 48". As a wood grain plank, Woodland Blanco enhances this open concept living space with a seamless flow.

Part of outdoor living is unifying your outdoor and indoor space. This month's spotlight is on light gray wood grain porcelain tiles, specifically the Oregon Gris Antislip. Oregon Gris offers the ideal solution for those who want the same tile throughout indoors and outdoors. Oregon Gris boasts an indoor matt finish and outdoor non slip version AND it is 15% off during our Outdoor Living promotion this month.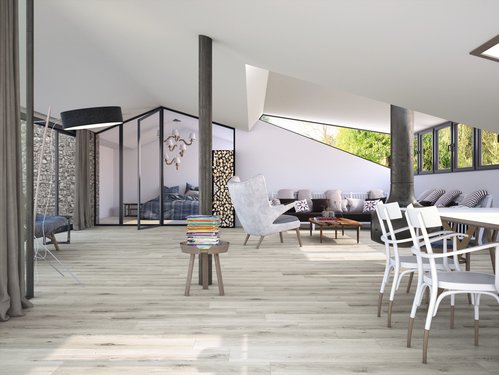 Did you know that larger wall tiles can actually make a space look bigger? Flowing from floor to wall with the same tile opens up your space even in small areas like showers and powder rooms. The San Remo Perla 24 x 24" shown below is used on the floor and the accent wall to create a beautiful unified open concept design.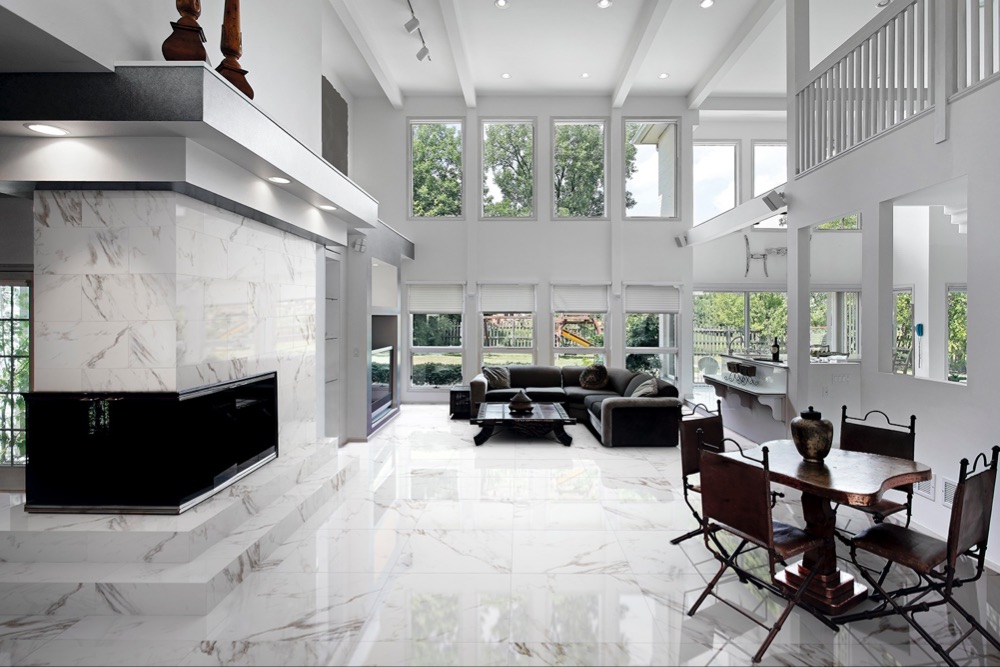 Pool and deck tiles need to be non skid, durable and the design should be able to stand the test of time. My Space Cognac antislip 9 x 36" ticked all of those boxes for this poolside design. The porcelain wood effect plank tile creates a safe surface for summer family fun. Download our outdoor guide to learn more about the latest pool tile designs and receive 15% off ALL outdoor tiles this month.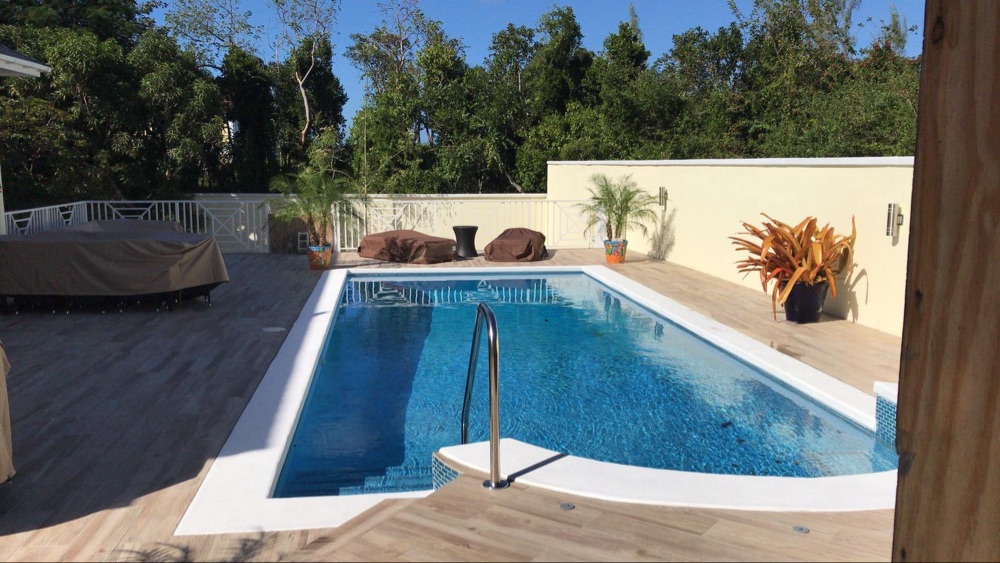 Our featured indoor space focuses on shiny porcelain tile in size 24 x 24". The Dalvik Perla shown here is available in 2 complimentary neutral colors. The gloss finish adds a touch of glam to floor or wall spaces. Combine it with any mosaic at 15% off for a truly stunning and customized design feature.